ART AND
CONTENT ©
COPYRIGHT
2006-INFINITY
MIKE BREHM/
MIKEBREHM.ORG

ATTENTION FRIENDS AND FELLOW TRAVELERS!
My work will be included in a group show celebrating Kevin Riordan's Stare Magazine. The show will be at Spudnik Press from August 30th through the end of September.


Beautiful Line, a catalog of my drawings from the last 5 years is now available through Blurb.com. Many of these drawings appeared in a show in March of 2013 at the Pottsville Museum in Pottsville Pennsylvania. Buy it here!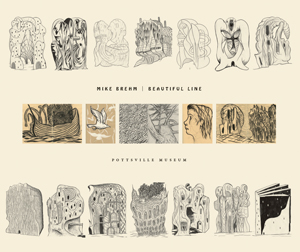 Also available is Dave Johnson's book Dave is a Dope. Dave is the founder, builder and curator of the Pottsville Museum. Dave is a Dope is a collection of rants and poems on the state of things. It's really funny and painful and it strikes to the bone. Get one here!